2019 Wanco WLT 4K6M Light Tower
new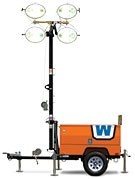 Standard diesel light tower
Weight: Approx. 1,800 lbs. (815 kg)
Tow hitch: Combo-hitch for 2-inch ball or 2 ½-inch pintle hook
4 x 1,000 W metal halide lamp
Output: 6kW
Engine type: 3-cylinder, 4-cycle, liquid-cooled diesel
Engine speed: 1,800 rpm
Fuel tank capacity: 30 gal. (114L)
Runtime before refueling: 60 to 70 hrs., approx.
Wanco light towers are perfect for any application where portable lighting is required. Compact, highly functional and easy to use, Wanco light towers are designed for optimum performance and maximum efficiency.
Wanco Diesel Light Towers are ideal for wide-area outdoor lighting in a variety of construction, industrial and commercial applications. Their small size and ease of use translate to portability and quick deployment.