2023 Wanco WLTS 500 Solar Light Tower
new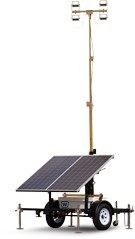 Solar light tower
4 100-watt fixtures
Lamp height: 20 ft. when fully extended; lights operate at any height
Lighting area: 400 x 250 ft.
Silent operation
Battery operated
Wanco light towers are perfect for any application where portable lighting is required. Compact, highly functional and easy to use, Wanco light towers are designed for optimum performance and maximum efficiency.
Wanco Portable Solar Light Towers provide bright white lighting on a solar charge. Because they have no engine, they produce no fumes, are silent, and require almost no maintenance.